Happy Birthday Canada!
Our family's activities on Canada usually include a trip to Millenium Park in Cloverdale. We packed a picnic lunch, some sunscreen & our patriotic gear!
For those of you who haven't been - Canada Day at Millenium Park is a large field with two bandstands set up like a country fair. There is a huge grassy area lined with community & commercial booths giving away information and swag, while local talent performs on two stages. There are carnival rides, a strawberry tea for seniors, birthday cake & lots of people watching opportunities! And for the planners among us, there is free, well organized parking!
The kids & adults love it! Favorites this year include beading bracelets in a
tipi
with the fabulous Mercy (her aborignal name translates into English as 'pearl skipping across clear blue waters'), driving go-carts, and saying hello to
Premier Campbell
,
Mayor Watts
& (my personal favorite)
Lui Passaglia
from the
BC Lions
.
Last year's fortification: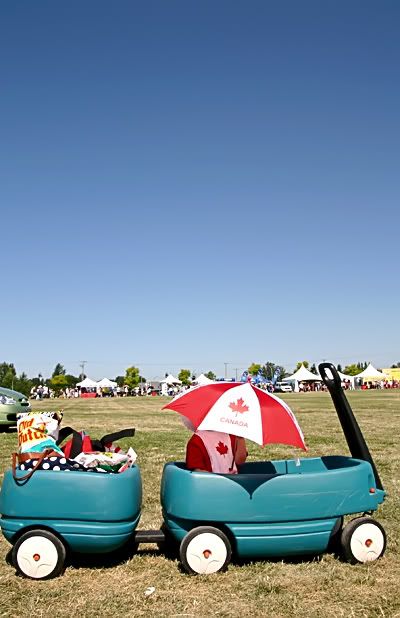 Finding ways to keep cool is always a challenge:
As is finding shade: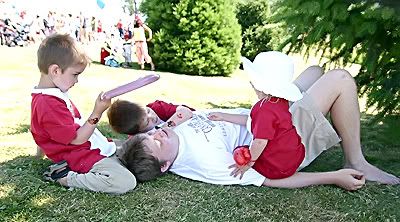 Isn't that Canada flag T-Shirt great? For all you mothers who enjoy thinking about children's clothing - I just want to share with you that this is the last year my three kids can wear this great T-Shirt - my oldest has officially graduated into 'older boy' sizing!
And for those hockey fans that are wondering why I haven't mentioned hockey in a post about Canada Day - the father of the family was wearing his
Heritage Classic
T-Shirt. If you ask him, he'll tell you all about it!