Day 1: Part 2
Let me just say: staying close to Disney=a very good thing. And a caveat: I'm one of those people who like to be prepared when we travel. I don't schedule too much, but I like to research and plan for a variety of activities we can choose from. I like to squeeze as much out of a travel experience as I can, but don't like to be wrung out when I get back.
After eating breakfast (I ran down to the local McD's ($19.59) while everyone was sleeping for a quick bit of food. Try the McSkillet - a surprisingly great product.), we filled our water bottles, put on our walking shoes and headed out to our first Disneyland experience.
First order of business if you are heading to Disneyland: get a
great guidebook
! Or even a lacklustre one. Seriously - it will save you much angst and time, even if you only use it for the ride reviews. If you've never been before with kids that are a variety of ages and temperaments, it is difficult to know what each ride/experience entails. The guidebook we used had a great section that rated the rides for each guidebook. Or sign up for the
tour
, where you can also purchase preferred seating for many of the spectacular shows at either park.
One of the things we did to add an extra dimension to our park trip was to look for 'hidden Mickeys'. Throughout the park are many ubiquitous mouse ears hidden in things like shelf brackets, recycle logos, architectural ornaments and graphic designs. At the ticket booth alone we found five different versions.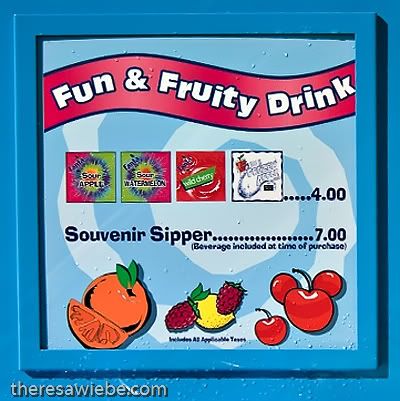 Can you see the hidden Mickey? It is the arrangement of cherries in the bottom right area.
Disney tip: If you purchased your Disneyland tickets through a travel agent and received a voucher, this voucher
will not
get you into Disneyland. I know that the voucher says 'redeem at the ticket booth', and that the ticket booth says 'ticket booth', and that the gates are labelled 'gates'. I'm just saying - get in the ticket booth line up first to get your voucher exchanged. If you have your cute little Disney passes already, then by all means bypass the ticket booth line-up and go to the gate line-up. And some of the guidebooks recommend lining up at gate 13or 20, but I didn't find them to be any faster. Take this time to redeem your character meal vouchers, too. Otherwise you might be dependant on the kindness of strangers to let you in the front of the line the next day when you have only a few minutes to exchange
that
voucher for your meal tickets.
Needless to say, I didn't get any photos of this process.
Our party had a small 30 minute glitch at the ticket booth, involving missing tickets and another Wiebe family. While it took a team of supervisors to resolve the issue, Disney was kind enough to grant us two golden tickets to get to the front of the line on the rides of our choice. Great service! Interestingly, the same J. Wiebe family that caused our ticket issue at the ticket booth were seated just before us at our Disney Princess lunch later in the week. That is another post in itself. It's a small world, after all . . .
And then we were inside Disneyland!
I had been to Disneyland once before as a nine year old, and don't remember much of the trip. It is interesting what you do remember when you revisit the park - like the entry plaza with the floral Mickey Mouse backed by the train station. I'll bet all children who visited Disney in their youth have that image burned into their brains.
We bypassed the characters waiting in Main Street, picked up our 'First Visit' and '100th Birthday Celebration' buttons from City Hall, waved hello to the statue of Walt and Mickey, and encountered our first Photopass photographer in front of Aurora's castle.
Disney tip: Disneyland has a great little service where they have photographers stationed around the parks that take pictures of you that you can purchase (of course) in the park or on-line. The first time you encounter a Photopass cast member, you ask for a Photopass card. They'll give you one - keep it handy. Every time you encounter a Photopass photographer (they are stationed at many viewpoints and character meet-and-greets), you hand them your Photopass card, they take a few pictures of you and give you back your card. While I only found them out and about during fair weather (they seemed to disappear at the slightest drizzle), it is an excellent way to get some nice group photos of your gang. You can then view them in the park or at home on-line for 30 days, and purchase prints or a CD of the images($59.95 USD), complete with character add-ons.
Disneyland budget tip: There are many on-line communities about all things Disney. Two that I read were disboards.com and mousesavers.com. They have great money-saving ideas! Some of these communities organize group Photopass buys, were families traveling to Disney at roughly the same time share one CD and spilt the cost.
Disneyland luxury tip: Have a professional photographer document your day at Disneyland! I would love to do this for you and provide you a completed book of images from your special day. I have availability next fall, and also have a few colleagues based in and around Anaheim that would be happy to capture images of your trip.
We headed right to Fantasyland as I wanted us to get our ride legs gradually, and because the youngest member of our family wasn't going to able (or willing) to ride some of the other rides in the park, so I thought we'd overdose on the kiddie rides first.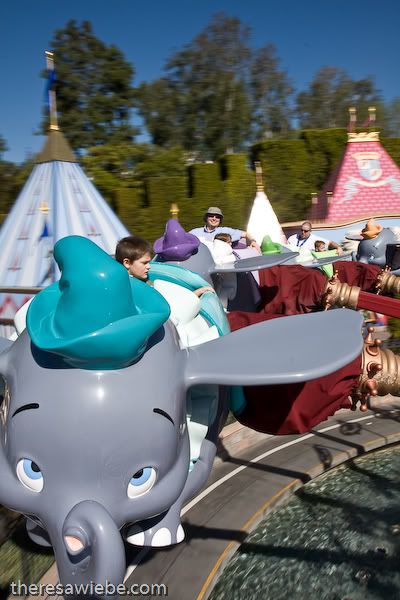 Disney tip: Disneyland has this great concept called the baby swap. Basically, if you have one member of your party that is too short or too scared to ride a certain ride, you all line up anyway, and tell every cast member that you see that you want to baby swap. One parent rides with the kid(s) that want to ride while the other parent waits where they tell you to with the child that doesn't want to ride. When the riding parent finishes, they switch with the waiting parent and the kids get to go again with the other parent. Voila! Everyone who wants to ride a particular ride gets a chance, and some get to do it twice! While I was never able to confirm the precise process or procedure by which this happens (even though I used it a dozen times), just keep asking how it works and where you have to wait and how to get back on until you understand how it works. Many of the bigger ride have more gentle ones nearby, so you can get in a kiddie ride while waiting sometimes, too. Don't forget to bring a little toy or book for the child who has to wait.
We stopped at King Arthur's Carousel, and in front of that is a cute photo-op: The Sword in the Stone. It was here that I experience my first little bit of Disney Magic. While my sons were trying to wrestle the sword from the stone, I could see through my lens that the stone was positioned perfectly to catch the sun's rays. While they looked divinely ordained, neither of them turned out to be King as per the legend.
Fantasyland stories tomorrow . . .