Day 1 Part 3
We had our touring itinerary in hand for day one, but the park was amazingly empty, so we sort of tossed that out the window.
Basically, all the line-ups looked like this: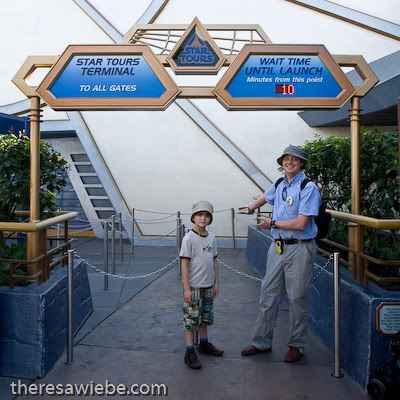 No line-ups today at Disneyland. The 10 minute wait was really for the walk to the ride.
After riding some of the Fantasyland rides (Dumbo, Mad Hatter's Tea party, Peter Pan, etc), we headed over to the rides favoured by my boys (and that would require some waiting for the girl). We are just going through a Star Wars phase here, so this section was a dream come true!
Disney tip: People warned me, you warned me, but I was still utterly amazed at the opportunity to load up on souvenirs. Indiana Jones hats after the Indy ride, amazing Star Wars gear after Star Tours, and beautiful and expensive princess gear after the Princess Fantasy Fair. And some of the tchotchkes were ultra cool - you'll see in a later post. Our modus operandi was to let the kids know that our second to last day at Disneyland was the day we would buy them a souvienir, and that they should keep a prioritized list of what they were interested in so that we could choose on that day. For those of you laughing your heads off, it actually worked! We oogled all the neat stuff, but there wasn't any whining or stamping of feet in the gift shops.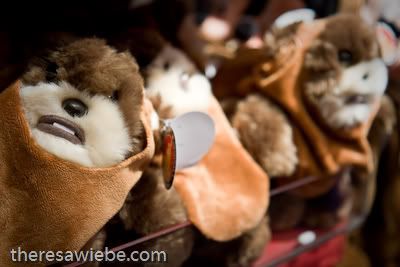 Ewoks! So cute, even cuter all lined up and begging to be given a home.
Yoda, rendered cute rather than creepy (I watched the first round of Star Wars at an impressionable age). I took the one on the right home.
We next headed to Adventureland, where we made the only error of our trip. We didn't know that Pirate's Lair on Tom Sawyer Island closed down at the first hint of rain, so we didn't head there right way. Perhaps we were dazzled by all things Star Wars? Since Tom Sawyer is my oldest's favorite book, it was indeed an unfortunate call on my part.
We ate our first Disneyland meal here in Adventureland at a skewer place named X that cost (I have to look up the receipts still). The place was very SLLLLOOOOOOW, but the food was great! We had chicken skewers, and one of every other kind. Only one of the beef ones was spicy enough for my kids to notice, and the veggie one was divine! Asparagus, mushroom & tomatos - yum!
Disney tip: Bring walkie talkies! The kids and I were able to ride the the Jungle Cruise
and
explore Tarzan's place while Kev waited (a very long time for a 4 pm lunch) for our meal.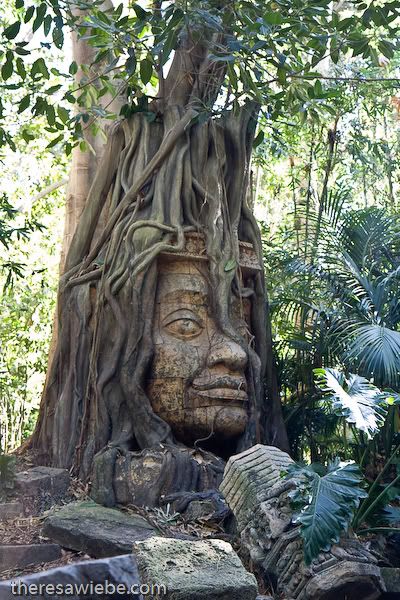 The jungle cruise was fun, and going on it broght back many memories from my trip 30 (!) years ago. And the guide was so pun-ny!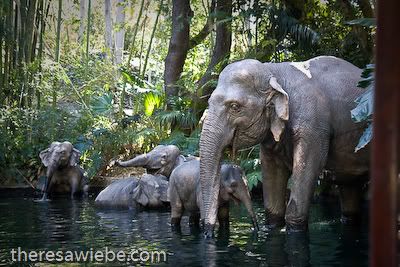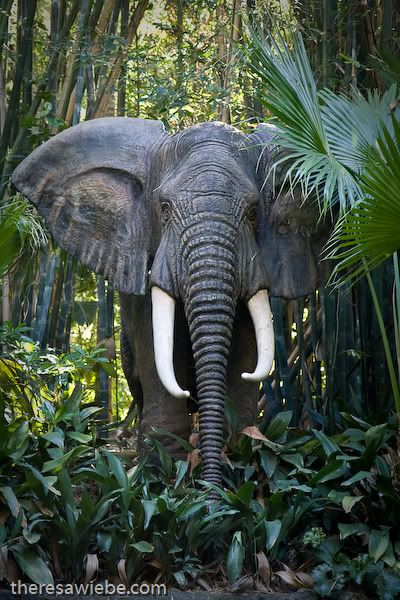 The Tarzan area was really cute - and a great workout, too. Watch for the cheeky crossovers - Mrs. Potts and Chip from Beauty and the Beast are right at home in Tarzan's kitchen.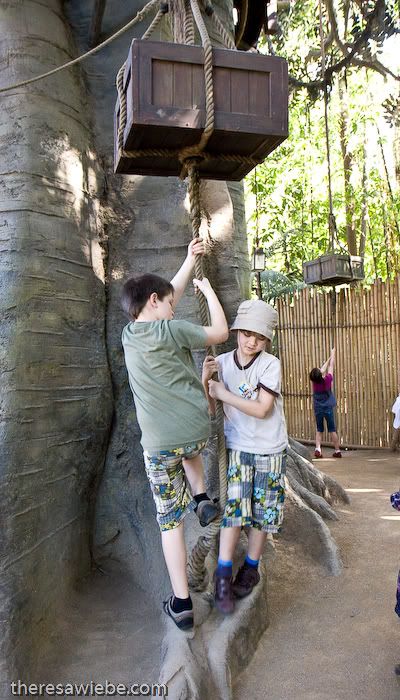 Almost at the end of Day 1!